Back to blog
CiliumCon Europe 2023 Schedule

Thomas Graf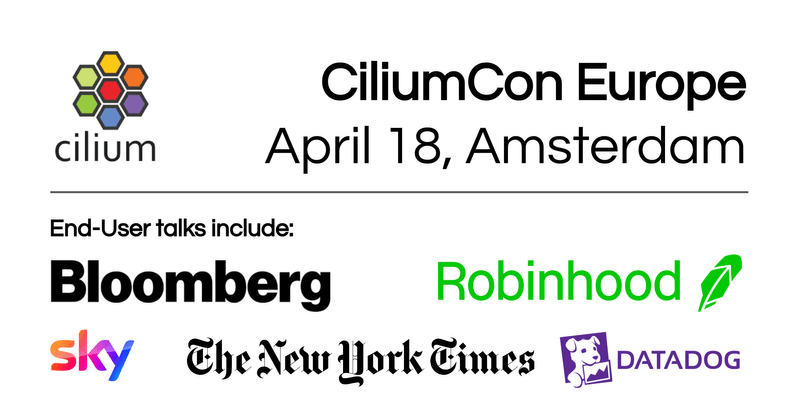 Hi Cilium Community 👋
We are excited about the first ever CiliumCon on April 18 in Amsterdam, hosted by the CNCF and co-located with KubeCon. The bad news, the on-site registrations are already sold out. The good news, the content will be spectacular, it will be streamed live, and all sessions will be recorded so you can still participate and be part of this amazing milestone together with us.
Agenda
The line-up is absolutely incredible with end-users from Sky, New York Times, Bloomberg LP, Datadog, and Robinhood Markets. What made them successful? How are they using Cilium? How has Cilium improved their infrastructure? It looks like we will even solve a murder mystery together.
| Time | | Session |
| --- | --- | --- |
| 09:00 CEST | | Welcome + Opening Remarks |
| 09:15 CEST | | Keynote – Deepak Bansal, Microsoft |
| 09:25 CEST | | The Cilium Story – Why We Created Cilium – Thomas Graf, Isovalent |
| 09:50 CEST | | The Show Must Go on: Increasing Security Without Blocking Developers at Sky – Peter Bale & Aaron Ecay, Sky |
| 10:20 CEST | | Designing and Securing a Multi-Tenant Runtime Environment at the New York Times – Ahmed Bebars, The New York Times |
| 10:50 CEST | | Cilium in Practice: Building Data Sandboxes at Bloomberg – Anne Zepecki & Sritej Attaluri, Bloomberg LP |
| 11:25 CEST | | Tales from an eBPF Program's Murder Mystery – Hemanth Malla & Guillaume Fournier, Datadog |
| 11:55 CEST | | More Churn No Problem: Lessons Learned Running Cilium in Production – Lu Zhang & Madhu C.S., Robinhood Markets |
| 12:25 CEST | | Closing Remarks |
How To Attend?
If you have a KubeCon pass which includes the co-located events you are already registered and can attend. CiliumCon will be hosted by the CNCF alongside several other prominent co-located conferences.
If you don't have a KubeCon pass with the co-located events option, the option has unfortunately already sold out. Fortunately, the event will be streamed live and all sessions will be recorded so you can still participate. We have already taken notes to expand the event for the next KubeCon.
In addition, the Cilium project will have a booth at KubeCon and a fantastic project update as part of the KubeCon main track as in previous years. You will of course also find the Isovalent booth in the exhibition area with many of the Cilium maintainers present. Swing by and grab your favorite color of Cilium shirt.
If you can't attend CiliumCon or want to dive into deeper discussion with the contributors and maintainers of the project, be sure to stop by the Cilium project meeting in the afternoon  from 15:30 – 17:30
Thank You
Our appreciation goes out to the programme committee who had an incredibly hard job selecting talks among the many submissions. The number of amazing proposals far outnumbered the available slots.
Thank you to the members of the program committee:
Event Chair(s):
Laurent Bernaille
Liz Rice
Program Committee:
Daniel Borkmann
Joe Stringer
Rob Boll
Stuart Preston
Tabitha Sable
Vlad Ungureanu
Ondrej Blazek
See you all at CiliumCon EU 🚀
Further Reading

Author
Thomas Graf
CTO & Co-Founder Isovalent, Co-Creator Cilium, Chair eBPF Governing Board
Thomas Graf is one of the creators of Cilium and the CTO & Co-Founder of
Isovalent
, the company behind Cilium. Before that, Thomas spent 15 years as a kernel developer working on the
Linux kernel
in networking, security, and eventually eBPF.